Welcome to the University Of Houston MSA
About the UHMSA
Established in 1964, the UHMSA was founded as a place for Muslim students attending the University of Houston from all backgrounds and cultures to make friends and find a supportive community. The UHMSA seeks to create a strong unified Muslim student body as well as contribute to bettering our community through public service and outreach programs. Through our community efforts, the UHMSA aims to educate and inform the at large community what Islam truly teaches and what being a Muslim is all about.
Our Current Officers
Fall 2019
LEGACY SPOTLIGHT
UHMSA has always strived to develop the next generation of Muslim leadership both in the city of Houston and beyond. We are proud of our member base and the history this organization has contributed to. Below are some of our recognized alumni.
Interested in being here? Know someone who is? Fill out the CONTACT US form and let us know! We are excited to hear from you!
UHMSA ALUMNI INITIATIVE
UHMSA has a wide variety of alumni in many different fields all around the world. If you are interested in becoming a part of the UHMSA alumni network, click the button below to get started! We would greatly appreciate your help in making UHMSA better for years to come.
Prayer on Campus
The University of Houston is known for its diversity and in doing so has allowed the UHMSA to have special places to pray on campus.
DUHR: 12:05 PM
ASR: ~3:10 PM
MAGHRIB: ~ 5:30 (Dependent on Sunset)
(Jammat in the basement every day a few minutes after)
ISHA: ~6:40 PM
LOCATIONS FOR PRAYER:
Library Basement (Regular prayers will be held here)

5th floor Brown Wing (If you prefer a more quiet spot to pray or rest)
Jummah Prayer
Every Friday, UHMSA reserves the 2nd floor A.D. Bruce Religion Building for Jummah prayers.
TIMINGS:
First Jummah
1:30 pm RB Atrium
Second Jummah
2:30 pm RB Small Chapel
LOCATION: 3800 Cullen Blvd, Houston, TX 77004
EVENTS
UHMSA hosts a ton of events! Check out the calendar to see whats coming up! Hope to see you there.

AMP
Acension Mentorship Program
The Ascension Mentorship Program (AMP) is MSA's very own professional development program! AMP aims to connect underclassmen with the resources, knowledge, and skills of successful upperclassmen students & Alumni. We accomplish this through providing each participant professional development workshops, unique resume building activities, a network of upperclassmen/Alumni mentors, and ultimately a community of career-driven Muslim students!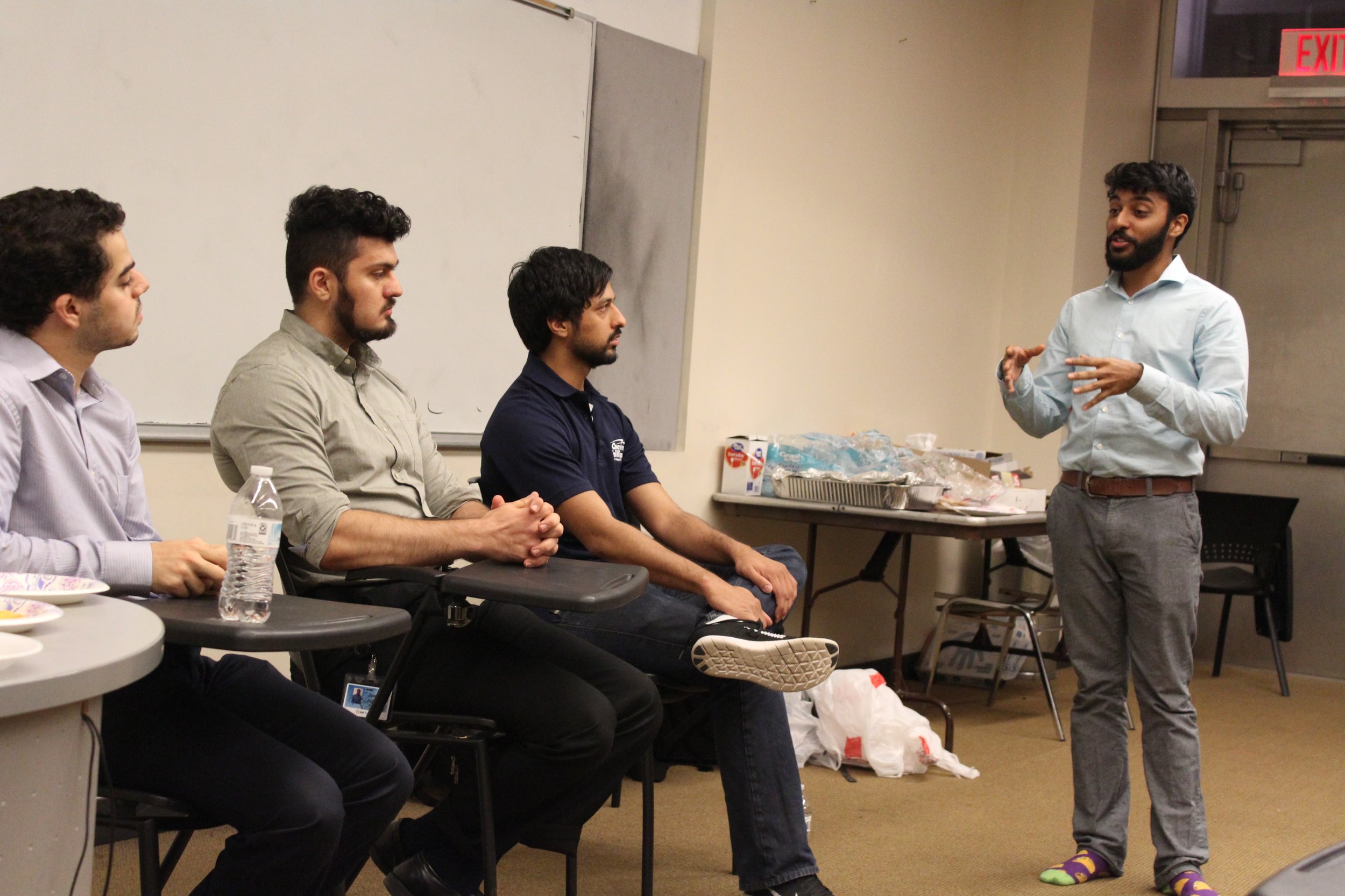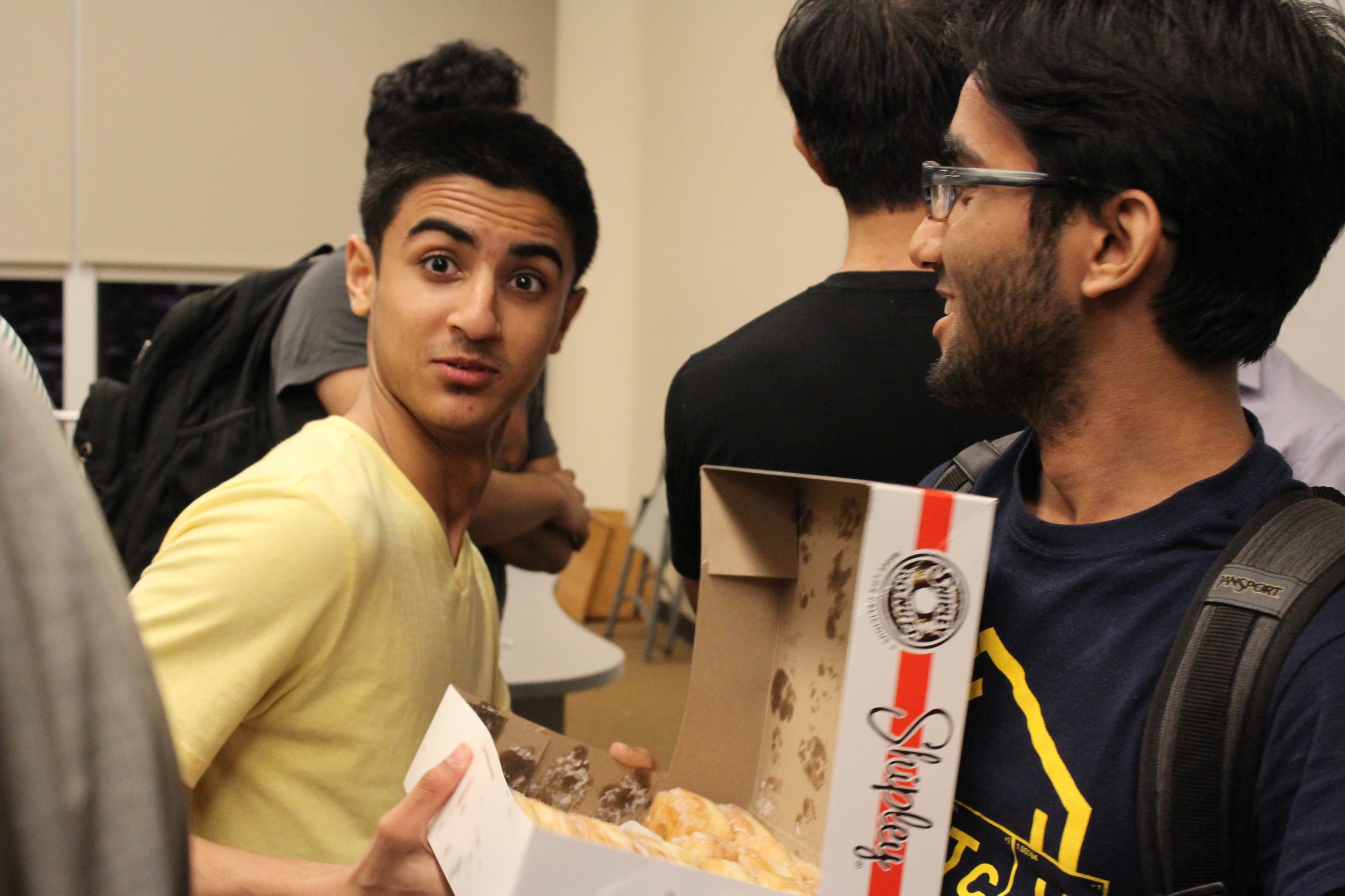 Interested in AMP?
If you would like to access AMP's Orientation Packet, which highlights program structure and details, please click HERE.
If you would like to be a mentor, please apply HERE.
Please contact uhmsaamp@gmail.com for all AMP-related questions & concerns.
Applications for the Fall Class of 2019 are now closed. However, AMP's professional development events are open to the general student body, so keep a lookout for those!
LEARN MORE ABOUT OUR MENTORS BY CLICKING ON THE PICTURES BELOW!
EDUCATION
One of UHMSA's major functions is its continuing drive for education, whether it is Islamic, career, or historical knowledge. Often times, UHMSA will host a speaker or create a panel of guests who are more than willing to educate young Muslims. Along with speakers, UHMSA is a strong advocate for interfaith work as well as any opportunity to educate the community about Islam such as our weekly Dawah Table.
Interfaith Table
Every Tuesday and Wednesday, UHMSA hosts an Interfaith Table, a stop for people going to class to learn about Islam, offering any information and brochures for those curious about Islam.
TIMINGS & LOCATION:
Tuesday 11:00 am - 2:00 pm at the PGH Breezeway
Wednesday 11:00 am - 2:00 pm at the PGH Breezeway
SHOWDOWN
UH MSA takes pride in our members, and no greater tradition exemplifies the talented students that make up our MSA than Showdown! Take your hobby, skill, or talent to another level by competing with other MSAs in Texas for a weekend of jam packed competition, networking, and school spirit. Join the tradition! Register for Showdown!
UHMSA is proud to announce that we placed overall 1st at Showdown this 2018-2019 year! Go Coogs! Thank you LSC for putting on a great Showdown.
We also have interns for certain officer positions.
To access the document for intern job descriptions, click HERE.
The deadline to intern for fall 2019 has PASSED. Information for spring 2020 interns will be posted later.
CONTACT US
If you have any questions we are here to help! Just shoot us an email below! Also check out our social media! If you are interested in sponsoring an MSA event or a general body meeting you can do so through the form as well! We are always checking it everyday and promise to help you out ASAP!
DONATE
UHMSA runs on donations from around the community to provide for and offer many services to students. If you or your organization would be interested in supporting the UHMSA in its efforts, you can do so with these links below. Any and all donations are greatly appreciated.
SOCIAL MEDIA
UHMSA has a wide range of social media! Follow us to see what is going on! We would love to have you at our events!